Buy one Bosch Professional levelling tool and get a suitable accessory out of a defined range free of charge.
While stocks last.
Valid for purchases between 01.09.2021 and 31.12.2021 only.
Once they have registered or logged in with their Bosch ID on www.pro360.com/prodeals , uploaded the invoice and registered the purchased tool. You are eligible to participate in the promotion if you purchase a Bosch Professional measuring tool or measuring tool set from the Bosch levelling range: tile laser, point laser, combi laser, line laser, rotary laser or optical levelling tool.
Depending on what Promotional product you have purchased, a selection of compatible measuring tool accessories will be shown on the Pro Deals website. You can then select an accessory item of your preference, provided all conditions have been fulfilled.
This tool is delivered directly to the customer's address.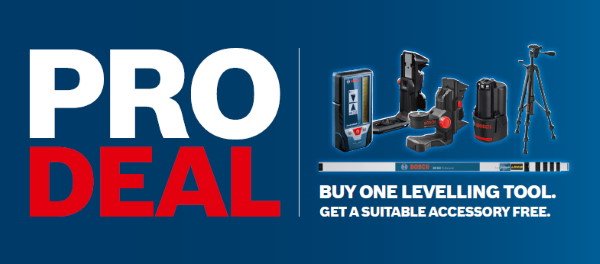 *The reward will be delivered directly to the customer's address
*Valid from 01/09/2021 until 31/12/2021 for UK customers.
Login with your PRO360 user profile or register now with a Bosch-ID to profit from this extraordinary deal. After uploading your invoice you can choose your reward.